Excellent results that buck national trends in the first public exams since 2019
We are so proud of the huge accomplishments of the class of 2022, in the first public GCSE examinations since 2019. Our students have shown incredible resilience against the challenging backdrop of the past two years and their excellent results, bucking national trends, clearly demonstrates their commitment and hard work.
As Ofqual have explained, grades will be making a staggered return to 2019 levels following two years of teacher assessed results, with this year's grade boundaries acting as a point of transition. We are therefore delighted to have maintained our grade profile, in contrast to the national picture of falling results; a real achievement for which our students deserve our heartfelt congratulations.
More broadly, our results at grade 7+ and at grade 9 are the highest that the school has ever achieved. 40% of our students achieved at least one grade 9, and 42% of all grades were at 7+, once again in contrast to the national picture. Our performance at Ebacc is also predicted to be significantly higher than the UK average.
Students achieving 4+ in English & Maths: 81%
Students achieving 5+ in English & Maths: 70.3%
Students achieving 7+ in English & Maths: 30%
Students achieving 5 subjects at 5+, including English & Maths: 69%
76% of all grades at 5+ and 42% of all grades at 7+
Whilst our performance is excellent across the board, it is important to mark our exceptional achievements in Art (40% 7+), Chemistry (76% 7+), Physics (74% 7+), Sociology (50% 7+), Drama (70% 7+).
We are so proud of our students and would like to thank them and their supportive parents for working together to make these results possible. Thanks must also go to our fantastic team of staff who have done everything they can to support our students academically. Always inspiring them to give it their all, keeping them going and helping them stay calm throughout.
We are delighted that the vast majority of our students have secured their first choice of sixth form; This will see most moving on to study A level courses at our partner college, Woodhouse College, with others winning places at UCS, South Hampstead High School, Dame Alice Owen and Camden School for Girls. Other members of our class of 2022 have secured incredible courses at Barnet and Southgate College, as well as other local colleges. The significance of our strategic partnership with Woodhouse College has secured a smooth progression for so many of our students and they are very lucky to move onto such an outstanding learning environment.
Headteacher Miss Harrison commented: "I am so proud of what my students have achieved; all their hard work has truly paid off. Given the backdrop of the past two years and the national picture of falling grades, these results are even more special. Each young person, supported by their parents and their wonderful staff, have secured such excellent results. We look forward to supporting them in their next steps to sixth form and beyond. Such a huge well done."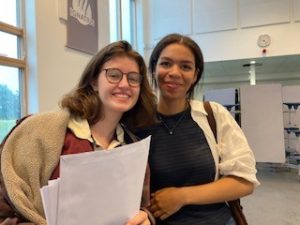 Selin: 'It all went really well, I am so happy with my results. My Science and Maths teachers were very supportive and invested so much time in my learning. I feel the consistency of my hard work was the secret to my success. I am so looking forward to my next steps'
Hannah: 'I am so excited to transition to Dame Alice Owen School. I have loved my time at school and always felt so supported by my teachers'.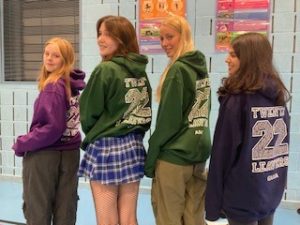 Amelie, Becky, Lois and Guila all look forward to setting off to Woodhouse for their A Levels following their tremendous results. Amelie says 'I am so delighted with results. All the hard work really paid off!'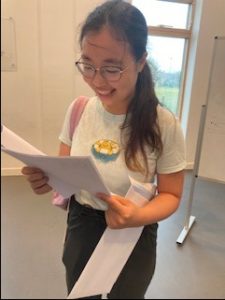 Kaelyn: 'I am so happy with my results and will now go on to do A Levels in Chemistry, Physics, Maths and Further Maths at South Hampstead High School. I have loved being at school here and I am so grateful for the support, care and positivity of all my teachers.'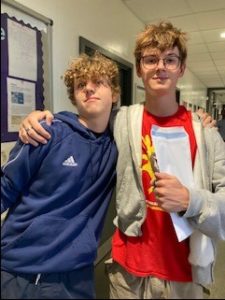 Charlie and Freddy both look forward to starting at Woodhouse following their impressive results. Charlie said 'I am delighted with my English grades, the hard work paid off. I am so thankful to Mr Gillo and Mr Ruffles for all of their incredible support'.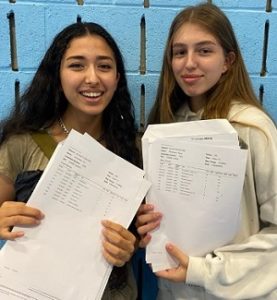 Anoushka and Rosemary both looking forward to beginning Year 12 at Woodhouse. Anoushka said 'I am so delighted that I have met the entry requirements for Woodhouse and delighted to have secured two grade 8's! I was so happy with the way I improved my studying, with the help of my teachers and other students'.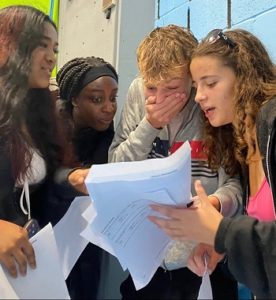 Adam, Shomya, Karen and Tia look set to secure superb 6th form places following their outstanding grades.