An outstanding set of results from our brilliant students in particularly challenging circumstances.
Today has enabled us to celebrate the exceptional achievements of all our young people. We are simply so proud of the superb results they have achieved, the realisation of their hard work, effort and determination.
As a school we settle for nothing but the best and our students have once again been triumphant. The examination series of 2021 will certainly go down in the history books, amidst the most challenging of circumstances and ever-changing goal posts. However, students have excelled and our results have surpassed the outstanding results of the previous three years. Over one third of all grades in English and Maths achieved were at 7+. In fact, almost half of all grades are at 7 or higher. Our EBacc achievement truly stands out, with 58% of students achieving 5+ across their curriculum.
We also know just how rigorous and careful our Teacher Assessed Grade process was, one that was carried out with the upmost professional integrity by staff, enabling our students to confidently achieve the results they deserve.
The progress our students have made as a group continues to be well above national expectations, and their attainment puts us once again among the UK's best state schools. Most notably our sustained upward trend in relation to students' achievement over time, from their starting points, has continued and has accelerated.
Headteacher Miss Harrison commented: 'I am simply so proud of what my students have achieved; all their hard work has truly paid off. Each young person, supported by their parents and their wonderful teachers have secured such exceptional results. This has been such a stressful and anxious time for our Year 11 cohort. Students have experienced unprecedented levels of disruption and uncertainty in their education across two precious years. However, their resilience and determination has enabled their success.
The cancellation of examinations and the introduction of Teacher Assessed Grades has been complex and thorough, the responsibility felt by every teacher was so great. I am grateful for the incredible work of my staff and the support they have afforded each student. Our students are so very dear to us and their commitment to their studies and school life so respected.
I am proud of each and every student, they deserve to be so proud of themselves – they have overcome so much and now have very bright futures to look forward to. Well done.'
We are delighted that the vast majority of our students have secured their first choice of 6th form courses and this will see most transition to Woodhouse College for A Level study or Barnet and Southgate College for vocational courses. The significance of our strategic partnership with Woodhouse College has secured a smooth progression for so many of our students, they are very lucky to move onto such an outstanding learning environment. However, students have also secured places at a host of other excellent institutions, most notably: UCS, Aldenham, Camden School for Girls, King's College Maths School, Fortismere School and APS.
Our wonderful students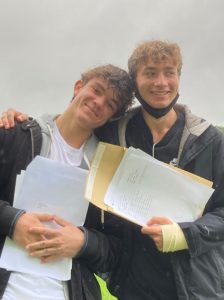 Leo and Sam are both off to Woodhouse following stellar sets of results. Leo said, "I am delighted and elated with my results, such a hard year but the year group have got through it so well and the hard work has really paid off." Sam said, "I am ecstatic with my results. I have loved school, especially the trips and the fun had in the year group."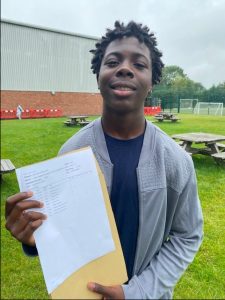 Kyron is heading confidently to Woodhouse owing to his tremendous results. Kyron said "I am so relieved and proud. We all worked so hard and teachers have been amazing."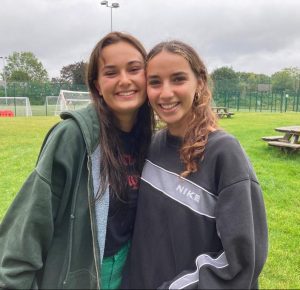 Rosie (Head Girl) and Ellie achieved phenomenal results, across the board. Ellie looks forward to transitioning to UCS and Rosie is making her final decisions, holding incredible 6th form offers. Rosie said "I am very happy with my results. It has been challenging and we have been pushed to our limits, but it's been worth every minute." Ellie said 'I hope to take the tools I have learnt from the Archer and use them in my next learning experience'