There's a lot going on behind the scenes at the Archer Academy. Here's what's been happening recently.
---
18.07.14
Our final newsletter from our first year.
---
11.07.14
Here's what we have been up to this week.
---
04.07.14
The latest news from the Archer Academy.
---

27.06.14
It was another busy week at the Archer Academy; here's all the news.
---

20.06.14
Here's what's been happening at the Archer Academy this week
---

13.06.14
More news from the Archer Academy team.
---

06.06.14
Welcome back to the last half term of our first year; here's all the news.
---

23.05.14
The latest news from the Archer Academy.
---

16.05.14
Here's what's been happening at the Archer Academy this week.
---
09.05.14
It was another exciting week at the Archer Academy, with work starting at Stanley Road. Here's all the news.
---
02.05.14
All the latest news from the Archer Academy
---
25.04.14
Welcome back to the Archer Academy; here's what's been going on since the holidays.
---
05.04.14
Our final newsletter from the spring term.
---
28.03.14
It was another busy week at the Archer Academy.
---
21.03.14
Here's what's been happening at the Archer Academy this week.
---
14.03.14
It was another busy week at the Archer Academy; here's all the latest news.
---
07.03.14
The latest news from the Archer Academy
---
Archer News 20
Welcome back! Here's what's been going on at the Archer Academy this week.
---

Half way through our first year, here's the latest news from the Archer Academy.
---
It was another exciting week at the Archer Academy, including visits from a Team GB Olympian and author Joe Craig.
---

Archer News 17
Here's what's been happening at the Archer Academy this week.
---
Archer News 16
All the latest news from the Archer Academy
---

Here's what's been going on this week, including some exciting news about a grant from the London Marathon Charitable Trust.
---
Archer News 14
All the news from our first week back after the holidays.
---

20.12.13
All the news from the final week of our first term.
---

13.12.13
It was another busy week at the Archer Academy.
---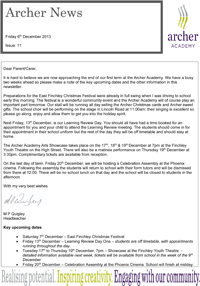 06.12.13
Click to download this week's news.
---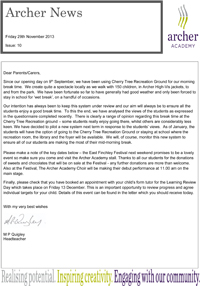 29.11.13
The highlights of another week at the Archer Academy.
---
22.11.13
This week was a particularly exciting one, as our official opening took place on Thursday.
---
15.11.13
Here's what we've been up to this week.
---

8.11.13
Here are the highlights of our first week back after the break.
---

25.10.13


Archer News 6
Our last newsletter for our first half term.
---
11.10.13
As our first month comes to an end, here's the latest news.


---
4.10.13
Please click to download this week's newsletter.


---
27.9.13
There was some very exciting news in the Archer Academy's third week!


---
20.9.13
Our second week at the Archer Academy was also a busy one! Have a read of our newsletter to see what went on.


---
13.9.13
Take a look at our newsletter to find out what we got up to in the first week at the Archer Academy.
---
9.9.13
Our first day by Avis Johns, Chair of Governors
It was late last night that the enormity of what we've achieved hit me. Winding down from another weekend of preparation, it dawned on me that our longed for school is now a reality. One more sleep and the front door would open wide to receive our inaugural Archers!
And so it was that this morning a steady stream of students took those important first steps into their secondary education. Some branching out alone, others accompanied by parents, the atmosphere fizzing with anticipation and excitement. If some of the students weren't aware of the significance, their parents certainly were.
Many at the gate talked about 'the journey' – the stages that saw us go from a conversation between me and another mum to a campaign group and now a governing body. It certainly has been a journey, and a tough one at times, but one which has brought us to a fantastic place where now we can put down roots and grow.
There were a few tears at the gates – although only from the parents, as their offspring joined with friends old and new, all kitted out in their fantastic uniforms. And by 8.30am virtually all of our 150 students were in and the day began with tutor time, setting out the curriculum and timetable.
Later in the day we had our first whole-school photograph, an opportunity that was as exciting as it was humbling. All those lives, all that potential, smiling for the camera as they set out on their secondary school careers.
It certainly has been an incredible day. And like so many parents I couldn't wait for my daughter to arrive back with her assessment of how it had been. Charging through the front door at 4.15pm, she was brimming with stories and dilemmas – should she join international film club or maybe circus skills or textiles? Oh, and 'how long for dinner?'
And we'll do it all again tomorrow. And the next day. And the next.
The opening of the Archer Academy really is a milestone for our community and couldn't have been achieved without the skills, dedication and unwavering belief from the many people who have contributed to its development.
But just as this is a new beginning for our students, it marks a significant change for those of us involved behind the scenes. Having been a steering group for the last 18 months, the founders of the school now become its governing body, along with four new colleagues appointed recently through an open recruitment process.
From now on, the operation of the Archer Academy will fall to the immensely talented leadership team, and although our original group will continue to play a part, it will now be in the more traditional governance role of support and challenge.
Rest assured though, our energy and commitment remains, as we continue to ask the staff team and ourselves the question that has guided us throughout this process: "How good can our school be?" We're determined the answer shall be: "Outstanding"!
Avis Johns, Chair of Governors
---
22.07.03
We've just received the report of our pre-opening Ofsted inspection. Unlike the standard visits from Ofsted, this kind of inspection doesn't result in a grading, but is simply to judge whether we have everything we need in place to open. And the good news is, it's a resounding yes, with a clean sweep across every category.
As you may remember we got a similar thumbs-up from the Department for Education, so it's fair to say that the authorities have given us their backing and consider that everything is progressing as it should for September. We're delighted to hear it.
---
14.07.13
Pioneer Archers on target for a smooth September
On Tuesday evening I was delighted to be joined by a group of our future Archer students to work on an article for the August edition of the Archer newspaper. The Archer had asked for a piece written by our future students discussing their experiences of the transition and how they feel about the new adventures ahead of them.
It was a fantastic evening and I was so proud of the mature and creative writing style demonstrated by our future students. We are certainly getting a talented bunch who could definitely have journalistic careers ahead of them. We will be starting a student school newspaper in September and this workshop has increased my excitement about what we might be able to produce each term.
The students created the headline above and their ideas have been sent off to the editor. However, there was so much to share we thought you might want to have a look at what they said.
"Last week at the Archer Academy students had their Induction Day. The future students had a full day of fun and excitement. They sampled a few lessons, met form tutors and other staff members; they also interacted with other future Archer students.
Secondary transition is extremely important in a Year 6 students school life and for many children this experience can be slightly daunting. However, the many taster and induction days have provided future Archer students with a more "enjoyable and relaxed" strategy to help Year 6 children feel happy and safe in advance of September.
All Archer students had an exhilarated expression on their faces when they came to meet their parents at the end of Induction Day. You could tell that the day was a huge success. Devina, said "It is such a smooth transition, I feel more relaxed than before."
By Zahra
"During the past seven weeks there has been a great transition from primary school to the Archer Academy. The most helpful part of the transition was the VIP Zone which was on the school website and helped the students to see the standards expected of them. On the VIP Zone you could meet some of the wonderful teachers, furthermore learn about them. The Induction Day was fantastic because you could meet all the teachers.
All of the Archer students are feeling excited but maybe a bit nervous because they are going to a new school. There are a lot of emotions. It is great for all the children who are moving up from Year 6 because they will have a new start and if they didn't quite succeed in education before this could be there chance to shine."
By Devina
"Moving to a new school is like moving to a new home. It's not easy to leave the family of your primary school but it feels to the students as if they are joining a new family. Students are sad to leave their primary school friends behind but simultaneously excited to make new ones at the Archer Academy."
By Micheala
"Last week we had an amazing Induction Day, meeting the teachers, seeing what the lessons were like and meeting our new classmates. At the Archer Academy we even had assembly at the Phoenix Cinema!
I thought at the start it was sad to leave my primary school as it is like a second home and I had lots of friends, until I came to Induction Day. I have made so many new friends already and am so happy with my new class."
By Kerri
"This term to prepare for the transition to the Archer Academy the staff have created a VIP Zone exclusively for new students. Every child was given a username and password so they can log in to their account and take part in weekly challenges.
The VIP Zone was designed to smooth the transition to the Archer Academy. A new Archer student said "The VIP Zone has been a great help to smooth the transition between primary and secondary and has given me an idea of the work we will be doing."
By Georgina
"The Archer Academy's system of transition is one of the most delightful options available! Well organised, fun and no stress – all a child could want. The way a new school helps you is important. With the pioneer students arriving in merely a couple months, the Archer Academy has "pulled it off completely".
The Archer Academy is the perfect secondary school solution for parents and children throughout the local area. One future student said of their transition "It has been great; low pressure, high enthusiasm and the familiar site makes it a smooth and joyful experience." Another said "it makes you feel more involved with the community of East Finchley."
By Jamie
"Last week every secondary school had their new Year 7 in for the day. Of course, this is very important for all the schools but most important for the new East Finchley secondary school – the Archer Academy. In fact the Archer Academy had a full Induction Week with events for parents and children.
All of the Archer student feel extremely excited but of course it is a great challenge to move up from primary school."
By Eion
"Last week there was an Induction Day at the Archer Academy, as the future Archer students prepared for the next big step in their lives. Getting ready for September has made everybody very busy. The teachers and staff have put in a huge effort to make the school a success. It really looks like the Archer Academy will go down in history.
Students have exclaimed at how fast the community is growing and how quickly they are making friends – even though term is yet to start. Mia Popvic a future Archer said "The Archer Academy is a seed that was planted only recently but it has already grown leaves."
The students are preparing for a smooth September and their glittering future ahead."
By Mia

I certainly can't wait for September – what about you?
Miss Harrison, Deputy Headteacher
---
08.07.13
What a wonderful week
We had a wonderful time at the Archer Academy last week as our future Archer students and their families took part in a range of events throughout Induction Week. It was certainly an historic week which saw the Archer Academy come to life.
Parents joined us on Monday for our Parents Evening. The evening was focused on the curriculum and the logistics of daily life, as we are aware of how much change secondary school can bring to whole family life routines. After the presentations, parents had the opportunity to sample of our school meals – they certainly went down well!
On Thursday we welcomed our whole year group and all teaching staff to the Archer Academy for the first time. Our students spent the day in their new form groups with their class teacher. Students enjoyed a range of team building games and information collection exercises to help them make new friends and become Archer experts. They also took part in the first ever Archer Academy "Who Wants to be a Millionaire?" to test their knowledge and the theme tune was certainly ringing out around the corridors, along with lots of applause as students secured the right answer.
On Tuesday and Friday we held workshops at the Finchley Youth Theatre for groups of students. These workshops very much had a twist to them! Students were presented with a corpse and the scenario that this body had been found by gardeners in the grounds of the Archer Academy and that the police and media were on their way. Students worked in groups to identify how they thought the man had died and how they could save the reputation of the Archer Academy – before it has opened!
It was fantastic to see them work together and analyse a range of evidence to reach a conclusion, after which they put together their own role play of the evening news – we most definitely have some drama buffs heading our way. Some students also chose to write their own newspaper report about the case, including this one from Zeynah, below.
Thankfully, we have not really found a body in the grounds of the school. At the end of the workshop it was explained to students that they had been investigating a real historical case, that of the Tollund Man found in Denmark in the 1950s; the only made up aspect of the day had been where the body was found. Relief all round.
It certainly was a wonderful week and I cannot wait for September.
Lucy Harrison
Deputy Headteacher
---
2000yr old body found at the Archer Academy!
A supposed 2000 year old male body was found at around 9pm on Monday 1st July. The body was found in the grounds of a new secondary school, soon to be the Archer Academy.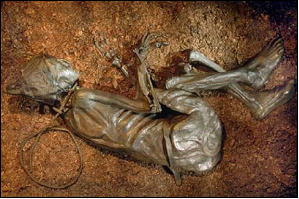 In East Finchley, a 2000 year old body was dug out from beneath the ground. Forensic tests believe the body to be a male slave from the Iron Age. It is suspected that the man was hung as examinations have identified that his tongue was swollen - a common sign in bodies that have died in this way.
Everything is under control and we know that there is not a frantic killer on the loose. There is plenty of evidence to suggest that the victim died 2000 years ago owing to the plant matter found under his body. Historians are beginning to suggest that this man could have reached similar fate as those bodies found in countries such as Denmark in the 1950's. Historians are suggesting that the man may have been hung as part of a sacrifice to a Spring Goddess. A statue was found by the body, commonly believed to be a Spring Goddess icon. A quote from the Deputy Headteacher, Lucy Harrison identifies that all is very much under control. "I'm working with the police in order to make the school safe for our future Archer students. Everything is quite hectic at the moment but we are sure that everything will be fine for our September opening." As you can see everything seems fine and taken care of. What a relief for all concerned!
By Zeynah Khan
---
27.06.13
A fantastic final meeting with the DfE
Another milestone was passed this week as we attended our final checkpoint meeting with the Department for Education – and received a huge thumbs up for what we have achieved.
Mick, Lucy and Avis met with senior representatives from the DfE and the EFA, and presented a report which set out the details of what we have achieved so far and our plans going forward. We had been asked in advance to evaluate our own progress and identify any challenges that may lay ahead in categories including curriculum planning, staffing, premises and finance.
The response from the DfE was overwhelming: with the option of grading us red, amber or green in each category they gave us green across the board. They heartily congratulated us on what we have achieved, and gave the team a round of applause as they handed over the signed, sealed funding agreement. They described our work as "brilliant", said we are "exemplary" in our approach, and concluded by saying that the thoroughness of our planning and self evaluation "said it all."
Throughout this process, the question we have asked ourselves at every point is: "How good can it be?" And this is our answer – very good indeed. We already knew that the DfE rate the Archer Academy very highly, as they have described us as setting the 'gold standard' for free schools, but this level of enthusiasm at the final stage has really reinforced what a special achievement this is.
---
24.06.13
The class of September 2013 – Year 6 Taster Lessons
We had a wonderful week at the Archer Academy last week as we welcomed our first year group to the Archer Academy to meet one another and some of their new teachers. The children all took part in a range of lessons with their new heads of department including Science, Art, Maths and English.
For our new heads of department, the taster lessons provided the perfect opportunity to talk with our first Year 7s about what they enjoy and find hard about their subject areas to support them as they begin to plan for September. Additionally, just spending time learning and enjoying tackling new subject matter together truly helped our teachers visualise just what a special group of students we have joining us. The teachers were blown away by the enthusiasm and work ethic of our future year group and simply enjoyed being here with them.
It really did feel that the Archer Academy came to life last week as students bustled down the corridors, chatting with one another in the foyer and producing some excellent work.
In Science the students took part in a dissection of the heart demonstration – certainly not one for the faint hearted! Miss Mahmood, Head of Science, was delighted by the students' mature approach to the task and it most definitely helped to illustrate how different Science will be for these students from September.
In English the students worked on some stunning pieces of creative writing, stimulated simply by a sweet. Miss Victor, Head of English, certainly enjoyed tantalising the children with their sweet as they used their senses to explore it before finally getting to eat it! Our students produced some fabulous work; here are just a few examples:
The amazing taste of an amazing lemon sherbet.
"The amazing smell…..drawing me closer to the never moving sweet. Magical, magnificent, a miracle indeed. The luscious smell makes you feel like you are on an amazing adventure. Just looking at it makes you want to lunge forwards and eat it. It feels like a smooth carpet. Eventually, you realise you have to eat it, for it will never leave. You throw it into your mouth, you take a bite. Amazing! The luscious lemon, making feel as if you are in heaven!
But you know it won't last forever, eventually it will fade away………"
By Ben
The Sweet
"The neatly wrapped sweet lay, lying, on the table, all trussed up in its wrapping paper. As shiny as a polished ruby. Smooth and sticky like the surface of butter and smooth as the top of a neatly cleaned car. The aroma of the sweet was as a freshly packed strawberry. It is sweet and flavoursome as the most tropical fruit and the tingly, fizzy taste brings it to life. When I bit it the sound is hard and loud and it feels as though an explosion has gone through within my mouth – as loud as a bomb exploding!"
By Paris

The life of a sweet
"There I was, an alien on my own planet. The humans, more commonly known as the predators. The predators had halved my friends and family out of our home, slowly devoured us one by one.
I was the last one in the packet – "the elephant in the room". As I was flung into the air, I heard endless shouting from the predators – the mumbling sound was deafening.
"Sweet!" said one.
"Oh, how sour!" said another. They slowly examined me. "This one is as plump as a pig!" exclaimed the first predator. I was flung up again, like a bird, but this time I was thrown in an abyss. Never to see the light again……"
By James

With such powerful work, you can see why Miss Victor cannot wait for September!
It was wonderful to have our first year group with us last week and we are thoroughly looking forward to spending more time with them, and their families, next week during our Induction Week.
I think I need to go in search of a bag of sweets!
Miss Harrison, Deputy Headteacher
---
17.5.13
Today we launched our VIP ZONE – a secure part of our website that is exclusively for our Very Important Pupils. It's designed to give the children more information about the school, as well as some ideas of things they can do to get ready to join us in September. And it's also where we'll post our regular challenges, which we're hoping they'll all take part in.
The challenges will give our pupils the chance to earn some house points even before they join the school. There will be a weekly challenge set every Friday (due back in by the following Thursday) and other ad hoc challenges such as submitting a book review. We really value our pupils having a go and doing their best so there will always be some points available simply for submitting a challenge.
We'll be adding to the VIP ZONE over the coming weeks and months, with features such as mini interviews with all our new teaching staff, some plans of how the school will look when it's finished, and more. In the meantime, we hope all our first pupils will log in, have a look around and have a go at our challenges.
---
08.05.13
The Archer Academy comes to life
On Tuesday evening the Archer Academy truly did come to life as 17 of our future Archers put on our new school uniform for the first time. Our future pupils looked magnificent as they walked the corridors, took part in lessons and burst out of the front door, all for a photo shoot for our new prospectus. We also took to the outdoors to demonstrate the PE kit in action – we certainly have some future sporting stars amongst us.
The prospectus will be available later in the Summer Term for prospective parents considering the Archer Academy for September 2014. We will also be using the beautiful photographs we took on our website and around the school.
The principles behind the school uniform are that it should be smart, comfortable and distinctive; and once our pupils were all dressed up it was most definitely all of those things. They looked so mature and coped with the demands of being models for the afternoon brilliantly. I think the pin stripe shirt is my favourite feature of the everyday uniform as it looks so smart. The black hooded top for PE with ARCHER written across the back looks really distinctive for sports; I hope that teachers are allowed one as well!
I felt so proud of all the children involved and it made me even more excited about September and our school opening. A huge well done to all involved, you should be very proud of yourselves.
A selection of the photographs will be up on the website soon, please do have a look.

Miss Harrison, Deputy Headteacher
---
26.4.13
More reasons to cheer this week, as we've passed yet another milestone on the road towards opening day. On Monday Lord Nash, the minister responsible for schools at the Department for Education, gave the Archer Academy the official, final thumbs up by signing our Funding Agreement.
Of course, there was no question that this would happen, as we have been congratulated by the DfE at various stages in the process for how advanced and thorough our progress has been. In fact, they've very flatteringly described us as being the 'gold standard' among free schools, a title we're fully intending to keep.
But although we've had every reason to expect our plans to be rubber-stamped without a hitch, we're nonetheless delighted to have passed this key milestone, and to be one of the earliest of this year's new free schools to have done so. It's a formality, in some ways, but it is also recognition at the very highest level of the steps we have taken to provide our community with a new, successful and popular secondary school.
---
06.04.13
Our insights into what the year 6s are thinking
We'd like to share some insights with you about what it's like to be in year 6. As part of the pupil taster sessions which took place last term, we asked the children to tell us how they're feeling about the transition to secondary school; specifically what they're looking forward to and what they're feeling concerned about. We also asked them what else they would like to know about the Archer Academy.
Their answers are really interesting, and are already helping us plan our transition programme; we'll be seeking to allay their concerns and respond to their questions over the coming weeks and months. We also found them very inspiring; for example, it's brilliant to know that almost every child is looking forward to making new friends (though we have taken note that that's something that is worrying them too), and that they're as excited about our planned sports facilities and extra curricular clubs and activities as we are.
We've put their answers into word clouds so they're easier to analyse; the bigger a word or phrase is, the greater number of children mentioned it. The answers weren't prompted by us, though we did give them the three categories to put their thoughts into. You can click on the images below to enlarge them - and if there's anything not mentioned that your own child is talking about, please feel free to let us know.
---
24.3.13
An update on our applications
We know everyone is keen to hear how the numbers are going, so here are some answers.

As you probably know, Barnet are processing the applications on our behalf, and they have started sending out some second round offers. The numbers are increasing every day as more and more families choose our school, so by the time you read this it will be a different figure compared to when we got our last update from Barnet on 22nd March. But we're expecting to confirm our 100th pupil any day now, and with just under 100 people still on our waiting list, and another 40 who have recently received an offer and haven't yet given us their answer, we're well on track for our first intake of 150 pupils.

We do know that many of the people on our waiting list are waiting anxiously to find out whether they will be offered a place, but it's also important that any family who receives an offer has time to consider it. We will make sure we send out any subsequent offers as quickly as we can, and of course parents on the waiting list are welcome to call us and check their position at any time.
---
25.2.13
Announcing our long-term premises plans
At last, we're able to share with you some news that we know you're all really keen to hear – our long-term plans for where the Archer Academy will be located.

Our aim once we had secured our first home in Beaumont Close (currently the Institute Arts Centre) was to find additional premises which would allow us to create exceptional sports facilities as well as further space for teaching and learning. We are therefore delighted to announce that we are in the process of securing a site at Stanley Road, in the heart of East Finchley, which will deliver exactly that.

The site, which includes Stanley Road playing fields and an adjoining piece of land, will allow us to build outstanding, bespoke school buildings that will work with our specific curriculum requirements, and brand new sports facilities with enhanced features. These, in conjunction with the Beaumont Close site, provide an urban campus school which will offer first class, 21st century facilities for our 21st century pupils.

The planned purchase of this site has been achieved in partnership with a local organisation called Sport East Finchley, who have long been campaigning to protect Stanley Road from the threat of over-development. And the combination of our resources and those of groups supporting Sport East Finchley mean we are able to do far more together than either organisation could have done on our own.

So how will it work? Well, one of the great things about this solution is that it will allow us to give our pupils access to the facilities of a large school – from curriculum and staffing levels to sports facilities and budgets – whilst offering them the day-to-day environment of a much smaller one.

We are therefore planning to fit out our two campuses as a lower school and an upper school, with our younger pupils to be based at the Stanley Road campus and the older year groups to be based at Beaumont Close. Pupils at Beaumont Close will come to Stanley Road for outdoor sports lessons and some recreation time, but otherwise travel between the two campuses will be kept to a minimum, with each campus being equipped with the teaching facilities its pupils require on a daily basis.

From the younger pupils' point of view this is really good news, as it will allow them to move up to secondary school without the overwhelming feeling of being so much younger than so many other pupils. It offers a calmer, more nurturing environment than most secondary schools can provide, which will allow them to start as we mean them to go on, with real confidence.

And from the older pupils point of view it's also a great solution; they will gain a real sense of progressing and gaining responsibility as they transfer to the upper school; they will also be able to develop their independence and take a first step towards adulthood in their own more grown up, yet still protected, environment.

Of course, in addition to the facilities we're creating at Stanley Road and Beaumont Close, we are planning to open a sixth form, to be ready for our first cohort in 2018, or before then if circumstances allow. Given the projected shortage of sixth form places in the next few years, we are confident that we will be supported in this by the education authorities, just as we have been during the first phase of our plans.

So when will all this happen? Well, the Stanley Road campus will be developed in phases over the next few years, as Beaumont Close has the capacity to house our first two intakes of pupils. Our key priority is to have some sports facilities in place at Stanley Road early in our first year and we have already started working toward this goal.

The summer term will also see us start work at Beaumont Close, as we refit the building and grounds to suit our children and our curriculum. As well creating up-to-date classrooms, labs, hall, library, kitchen and dining facilities, we will also be remodelling some of the interior space to ensure there is space for recreation and play, and landscaping the outside space to enable pupils to undertake some activities in the fresh air.

Plans have been drawn up for how the two campuses could work in practice, and we will be sharing these with you at a meeting for parents, which will be on 6th March at 7.30pm, at Martin Primary School. So for those of you with children in year 6, we'll make sure you have as much information as possible before you have to make your final choice.

In short, then, this is a fantastic solution which will give our pupils something quite unique: the breadth of curriculum and facilities of a large school but with the day to day feeling of a much smaller, more nurturing environment.

Or, as Mick Quigley puts it: "This is a wonderful opportunity for our pupils. Our urban campus school will give each age group their own space in which to grow, learn and develop, whilst at the same time having access to outstanding, purpose built large-scale school facilities; quite simply, the best of both worlds."

And Avis Johns, our chair of governors, agrees, adding: "The needs of our community have always been at the heart of the Archer Academy – from our earliest dreams through to the plans we now deliver. To strive for anything less than excellence would be to sell ourselves short.

The creation of our new school will offer our children a nurturing, local and ambitious education, and the re-energising of Stanley Road will provide both a top quality learning environment for pupils and the provision of excellent sports facilities for local people."
---
15.02.13
Great news - we've received two applications for every place
Our admissions for September 2013 closed on Wednesday 13th February, and we're very pleased to reveal that we've had a total of 301 applications – that's two for every place, which for a new school is a real result. It's great that so many prospective parents have put their faith in us; rest assured, we will live up to your expectations.

Of course we know that, as we're running our admissions independently from Barnet Council this year, many of our year 6 parents will have a choice of schools in March. So although we're delighted that so many of you have taken the first step by applying, we're also keen to make sure that parents feel confident about accepting our offers of places.

Our news has been coming thick and fast in recent months, and there's more on the way, with our long-term premises, sports facilities and uniform all set to be confirmed soon. So there'll be more good reasons for parents and children to choose our school with every week that passes.

We've also had the chance to meet quite a lot of our prospective parents, and their children, at our recent parent and pupil sessions; it's been really useful to hear what people want to know, and to have the chance to share our plans in a more informal environment. We're planning more events in the coming months to allow parents and children to get to know each other before September; we'll let you know more details about these as soon as we have them.

If you have any questions you'd like to ask us, please do so by emailing admissions@thearcheracademy.org.uk (for specific admissions related enquiries) or info@thearcheracademy.org.uk (for more general enquiries).


---
03.02.13


We've appointed our deputy headteacher
We are absolutely delighted to announce the appointment of the Archer Academy's deputy headteacher: Ms Lucy Harrison. The quality of applicants for this post was very impressive and we were able to shortlist a number of excellent candidates. We observed them teaching and a sub-selection were interviewed.

The decision to appoint Ms Harrison was unanimous. Currently an assistant headteacher at Hertswood School in Borehamwood, she has wide-ranging and relevant experience for the job, and demonstrated the insight necessary to be able to apply that experience to the distinctive challenges facing Archer Academy as it moves towards opening.

Ms Harrison has been consistently judged an outstanding teaching practitioner and has supported the overwhelming majority of her pupils to reach the grades to which they aspire at GCSE level. This is particularly important as the quality of teaching is the single most significant factor in helping young people to realise their potential.

Over the past five years, Ms Harrison has been a key member of a school leadership team at Hertswood School that has raised standards year on year. Her commitment to school improvement led her to develop innovative literacy and numeracy programmes that were acknowledged by Ofsted as having a real impact on pupil progress.

She has been responsible for a number of school departments and has been proactive in supporting those departments to improve teaching standards and to raise examination results.

For several years she has overseen the transition programmes that support Year 6 pupils in their move to secondary school. She has also recently remodelled the Key Stage 3 curriculum at her school in order to stretch and challenge pupils while offering more choice and fostering a love of learning outside the main curriculum. These are very valuable experiences that will help us to open the Archer Academy in the best way possible.

While Ms Harrison will not join us full-time until April 2013, we hope that you will have the opportunity to meet her in the coming weeks at one of our pupil taster evenings or at one of the events for parents.
---
18.01.13
Local representatives show their support at House of Commons reception
Around 60 representatives of local businesses, schools and organisations attended a drinks reception at the House of Commons on the 15th January, to hear about how they could support the Archer Academy.
The event took place in the Jubilee Room and was hosted by Mike Freer MP, long a champion of our school, who described himself on the night as 'MP for the Archer Academy.' Guests heard Mike speak about his hopes for our school and the role it will play in our community. He also told listeners that Lord Hill, who was until recently the minister for schools, had been particularly impressed by our proposal.

Mick Quigley and Avis Johns also spoke at the event, taking the opportunity to launch our new logo and explain how local organisations can show their support. Once the speeches were over, guests had the chance to be taken on a tour of the House of Commons by Mike, as well as mingling with members of the team.

The event was a great success and we've had some brilliant feedback since; here are just a couple of things our guests have said to Avis in the last few days:

"I found the talk from Mike, Mick and yourself very inspiring and your passion for the school is very infectious."

"I think we all agreed that it was a really positive meeting last night and I am very happy there is so much support for your outstanding project. As both working for a business in the community and being a prospective parent, I was enthused by getting to chat to yourself, Toby and others and listening to Mike and Mick's words."

Our thanks go to Mike for hosting the event on our behalf, and to local supporters Liora and Alex for their hard work in making it happen. You can read an article written by the Archer newspaper, who were also at the event, here: http://www.the-archer.co.uk/archive/2013/2013Feb04.pdf
---
11.01.13


Archer Academy and Institute seal the deal
Contracts completed as two organisations plan long term partnership
The agreement between the Archer Academy and adult education organisation the Institute was formalised just before Christmas as contracts on the sale of the Arts Institute were completed.

The deal, which has been negotiated on behalf of the school by the Education Funding Agency, will see the Archer Academy take up residence in the Arts Centre when it opens in September 2013.

The Institute will retain use of a completely separate part of the building to run a limited number of classes. Avis Johns, Chair of Governors for the Archer Academy, said today "This is a landmark event for the people in and around East Finchley.
The opening of the Archer Academy will fill a huge gap in local secondary provision, and the creation of a partnership for lifelong learning is a real result for everyone in our community.We're now working together to finalise the specific details of our partnership and how it will work in practice. It's an exciting time for all of us."
Greville Waterman, Chairman of the Institute Council, echoed Avis's delight, saying " We are delighted to be embarking on our partnership with the Archer Academy, which is allowing us to continue to offer a wide-ranging programme of multi-disciplinary adult education courses. We share many common values with the Archer Academy and see this as an opportunity to combine our skills and experience for the benefit of local people."
Read more in the Institute's newsletter -
http://hgsi.ac.uk/our-latest-newsletter
---
7.12.12
We're now recruiting our deputy headteacher, business manager and PA
Having recruited Mick Quigley to lead our school, we're now looking for a brilliant deputy headteacher, business manager and PA to support him in the run up to opening and beyond.
So if you or anyone you know would like to apply for one of these posts, you can find out more here (for the deputy headteacher role) and here (for the business manager and PA roles).
The deadline for applications is Friday 14th December, and interviews will take place in early January. If you'd relish the challenge of building our new school from scratch, we'd love to hear from you.
Once these key members of staff are in place, we'll start recruiting the rest of the senior leadership team and other key posts. So if you'd like us to let you know when we start advertising for these roles, please sign up for job alerts here.
---

22.11.12
Premises update – the Institute Arts Centre, East Finchley, will be our first home
We are delighted to announce a piece of news we know you have all been looking forward to hearing: the Archer Academy will open in September 2013 in the Institute Arts Centre, East Finchley
We've always been keen to work with the Institute, as we have many values in common, including a passion for our local community and a commitment to life-long learning. In fact, we had already started talking to them about how we could work together before the issue of premises arose.
When the Institute Arts Centre came on the market, it was immediately considered an ideal solution by the Education Funding Agency, the body responsible for securing a site for the school. The offer the EFA made on behalf of the Archer Academy has been accepted, and they are now working towards the exchange and completion of contracts that will secure the purchase.
In the meantime, we're in discussions with the Institute to finalise specific details about how the partnership will work in practice. A central part of these discussions is how the building will be shared between our two organisations. A team of specialist architects are already drawing up plans that will ensure that Archer Academy pupils and Institute students can enjoy exclusive use of separate sections of the building.
This agreement is the first step towards what we hope will be a long and rewarding relationship between the Archer Academy and the Institute. The deal will allow the Institute to continue to deliver a programme of courses for the foreseeable future, as well as providing the Archer Academy with its first home right in the heart of East Finchley.
Avis Johns, Chair of Governors, summed up our delight, saying:
"We want the very best for our pupils, and this agreement will provide them with a superb base from which to start their secondary education. It also opens up opportunities for them to benefit from the wide range of facilities that the Institute Arts Centre has to offer.
The vision for our new school has grown out of our commitment to the community and we are thrilled that our partnership with the Institute will allow us to realise our aim to create a hub for learning bringing benefit for many years to come."
---
9.11.12
Community consultation Saturday 10th November
As part of our statutory consultation we'll be outside Budgens in East Finchley on Saturday morning from around 10.30 til 12.30, to talk to the community about the Archer Academy. Please come along to ask us questions and have your say about our plans -Mick Quigley is hoping to join us for some of the time too. Look forward to seeing you there (weather permitting - if it's pouring with rain we may have to postpone).
---

8.11.2012
Update meeting 28th November
We're holding a public meeting on 28th November to update you on our progress, and introduce you to Mick Quigley, our new headteacher.
Mick is really looking forward to meeting prospective parents, and sharing his aims and ambitions for the school with our community. So please come along to to hear his plans, share your views and ask any questions you might have. Brookland Junior Hall, 7.30pm, Wednesday 28th November. All welcome.
We've also created a poster to publicise the meeting - if you'd be happy to help us spread the word, by displaying it in your home or car window, you can print it here.
---
22.10.2012
Introducing Mick Quigley, our headteacher
We're delighted to announce that we have appointed Mick Quigley to be the first headteacher of the Archer Academy. The decision was unanimous, and taken after a two-day process which combined practical assessments with detailed, searching interviews.
Mick brings to the school a brilliant combination of headteacher experience and strategic insight. He has spent nine years as a primary headteacher, first at Wessex Gardens School and subsequently at Holly Park School, where his leadership was rated as outstanding by Ofsted.
As a result of his achievements at Holly Park, Mick was seconded by Barnet Council to join their Children's Service team, so he could share his knowledge, experience and vision with other schools across the borough. He has spent the last four years there as Assistant Director, working in partnership with headteachers and schools to improve standards and put in place policies and plans that deliver a top-quality education for children in our area.
In short, both in strategic and practical terms, Mick knows what it takes to make a school a success. He's also been following the progress of the Archer Academy closely over the past year, and he's passionate about the vision we have created for the school, with some fantastic ideas about how to bring it to life.
Mick doesn't officially take up his post until early 2013, but he is keen to share his experience, enthusiasm and skills with us between now and then. So he will be working closely with us in the coming months as we continue to prepare for opening.
In the meantime, we know our prospective parents will want to meet him as soon as they can. So we're in the process of arranging a public meeting to allow him to introduce himself to our community, and set out his plans for the school. We're also hoping we can arrange some smaller, more informal occasions for him to meet Year 6 parents and again, will keep you posted.
---
11.10.2012
Meeting the community at Lyttleton Playing Fields
Members of our team attended the Lyttleton Playing Fields Funday on Sunday 7th October, and got to meet some of our prospective parents, give them a copy of our prospectus and talk to them about our plans. We really enjoy talking to our community about the Archer Academy, so thanks to everyone who came along to say hello and wish us well.
If you haven't had a copy of our prospectus, and would like to take a look, please click here to view it online, or email us at info@thearcheracademy.org.uk and we'll send you a copy.
---
6.09.2012
Prospectuses going out to local primary schools
We're in the process of delivering copies of our prospectus to local primary schools. So far, they've been distributed to Year 6 children at Brookland Junior School, Garden Suburb Junior School, Moss Hall Junior School, Martin Primary School and Tudor Primary School, and we're hoping to get copies to other local primaries soon.
If you haven't had a copy of our prospectus, and would like to take a look, please click here to view it online, or email us at info@thearcheracademy.org.uk and we'll send you a copy.
Our applications deadline is later than the deadline for the common application form, so you have until 13 February 2013 to apply for a place at the Archer Academy. You can apply online here.
more: Read our Blog